OUR VISION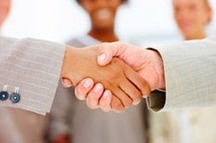 Partnering with clients to develop HR Strategies and best practices for continuing success. We focus on customized HR solutions that get proven results.
HR Genie LLC was founded to address the needs and ever-changing demands of a full-scale Human Resources Department. The goal is to introduce and design innovative techniques that can be used to drive HR initiatives and empower this unit to thrive within an organization. Research shows that a strong employee base is vital to stakeholder satisfaction and allows companies to remain competitive.

The CEO and Founder of HR Genie LLC, Kimberly S. Primus, has twenty years of direct Human Resources experience including employee and labor relations, training and development, compensation administration, employment law/HR Regulatory compliance, and effective enforcement of HR policy and procedure. Ms. Primus' background consists of a B.S. in HR Management and Finance from Drexel University and an MBA from the University of Phoenix. In addition, Ms. Primus has served as HR Management and generalist in Corporate, Healthcare, Retail and Airline industries in the private, for-profit and non-profit sectors. Through the use of HR Strategic Planning, HR Genie LLC will create and build strong HR functions that drive organizational development with proven success. HR Genie LLC's biggest strengths for your company would be:
Diverse HR background that leads to effective problem solving and quick turnaround.


High volume recruitment that partners with retention initiatives and lowers costs.


Direct experience with unions, labor relations and union avoidance.


HR Compliance and Risk Management in accordance with Federal and State Laws.


Measurable strategic HR that facilitates organizational development.